Guides
Hiring a Professional For Home Renovation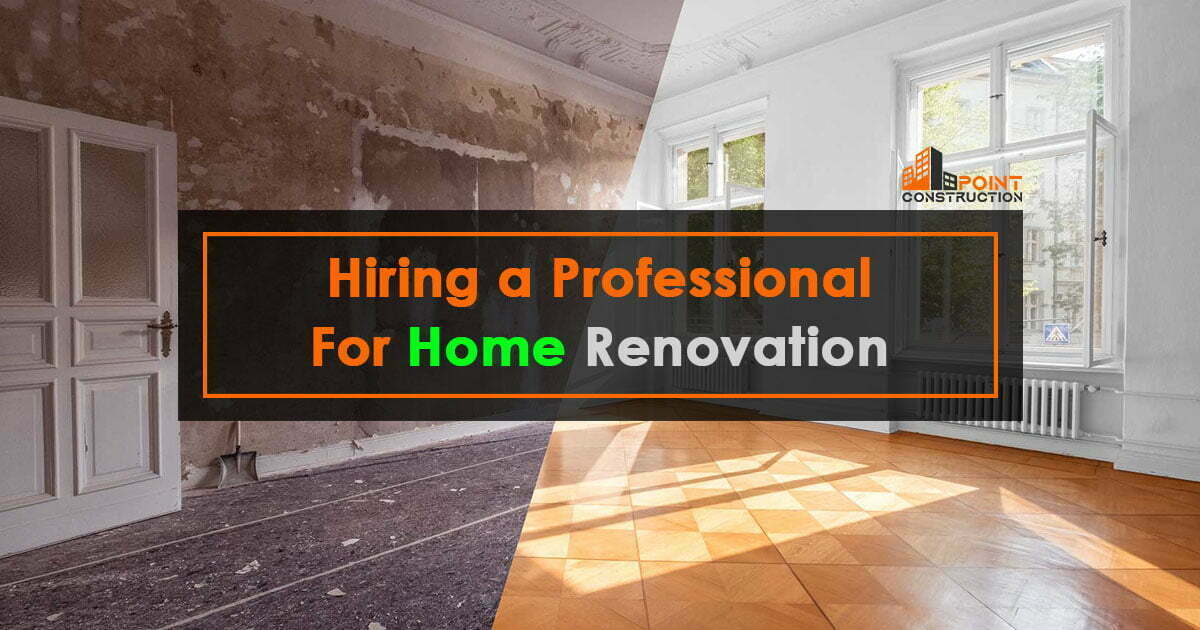 Hiring a Professional For Home Renovation. You may feel that by watching DIY instructions on YouTube and perusing thorough infographics on Pinterest, you are only a tool away from undertaking a home improvement project without having to hire a professional. There is, however, some bad news for you. Don't be fooled by those "before and after" photos into thinking you can do a job you have no experience with.
Hiring a Professional For Home Renovation
However, some chores, like repairing a leaky faucet or installing a light fixture, may be finished quickly even if you have no prior knowledge and only a few blog entries to guide you. In fact, choosing the DIY approach can save you a significant amount of money. Construction and building trades, on the other hand, are regarded as highly skilled vocations for a reason. Some home restoration and improvement projects should be left to specialists. Otherwise, you risk creating a DIY disaster that is not only costly to repair but also dangerous to your health.
The Significance Of Hiring An Expert For Home Renovation
Here are five signals that you should employ a professional instead of doing it yourself if you have any big home improvement plans.
1. You Have A Hard Time Understanding The Project
This is self-evident. If you're having trouble figuring out what needs to be done, don't start. One of the most common DIY blunders is assuming that once they start the project, all of the directions will make sense. That isn't always the case. Taking on a home restoration project takes more than a creative flair and an eye for design. To begin, you must determine whether the material you are employing is sufficiently strong. Also, double-check that the tools you've chosen are the right ones.
You may also need to complete some arithmetic, depending on the project. You'll also need to assess the structure's stability, comprehend the intricacies, and make sure you don't cause any additional harm. You might not be able to recognize any problems that occur later if you don't comprehend what needs to be done from the start. If you're having trouble grasping the facts, it's time to enlist the help of an expert to examine the problem.
2. Major Electrical And/Or Plumbing Work Is Involved
Leave any electrical or plumbing work to the specialists if your home remodeling plan calls for it. Changing a blown fuse is one thing, but messing with electrical cables is quite another. You can't just ignite a fire; you can also make a major short circuit, which can be dangerous.
Instead of causing an electric fire by accident, hire an electrician. The same may be said for plumbing. While repairing a leaking faucet is not difficult, repairing a damaged pipe might result in significant water damage. Furthermore, you may not even be aware of it until it is too late.
Working with gas can be dangerous as well, given the potential for a minor blunder to cause a house fire. Similarly, while employing a plumber or carpenter may cost a few thousand rupees, it's always better to be safe than sorry. There are no exceptions when it comes to structural repairs and major architectural work. Don't let an online house renovation DIY lesson make things even more difficult for you unless you have some prior knowledge.
3. An Expert Suggested You Hire A Professional
If someone who is competent or experienced in the field of home renovation advises you to engage a professional, you should heed their advice. For example, if you go to a hardware store to acquire the necessary materials and the employees advise you to seek outside assistance, they may have a point.
Of course, you should not be discouraged by others, especially if you are confident in your ability to complete the task successfully. However, if you have even the slightest uncertainty, take a moment to pause and reconsider your decision.
It's important to note that home improvement pros and contractors may try to dampen your DIY spirit for personal gain. However, don't dismiss counsel from someone who isn't directly affected by the circumstance. However, you should speak with a few more people who have either remodeled their homes on their own. You might also get advice from someone who knows a lot of individuals who have attempted similar initiatives.
4. It Can Pose A Threat To Your Safety Or Result In An Injury
Before you roll up your sleeves and start working on the project, consider the worst-case scenario for doing that home repair project. Go for it if you can just wind up with some shabbily painted shelves. However, if you think there's a chance you'll electrocute yourself or flood the house, call a professional. Water damage or an unidentified termite infestation could cause the wall you're trying to repair to collapse. It's also possible that you'll injure others.
For example, if you want to take down walls in your house or apartment to make more room, you'll need to employ a contractor. The reason for this is that you won't be able to tell which beams are supporting the roof. Hiring a home remodeling professional assures that you do not damage the house's structure or weaken its foundation.
5. You Don't Have Enough Time On Your Hands
For most DIY tutorial aficionados, the most significant constraint is time. While the concept of remodeling your home on a budget may seem appealing, it might quickly devolve into a huge mess if you do not devote the time it requires. Even if you are completely competent in completing the task on your own, you must ensure that your work or family duties do not prevent you from doing so. If they are, don't fall down the rabbit hole of do-it-yourself manuals; instead, seek professional assistance.
It may also depreciate the worth of your home in the long run.
If you're looking for achievable home renovation tasks, here are a few inexpensive weekend DIY projects that will transform the look of your entire home.