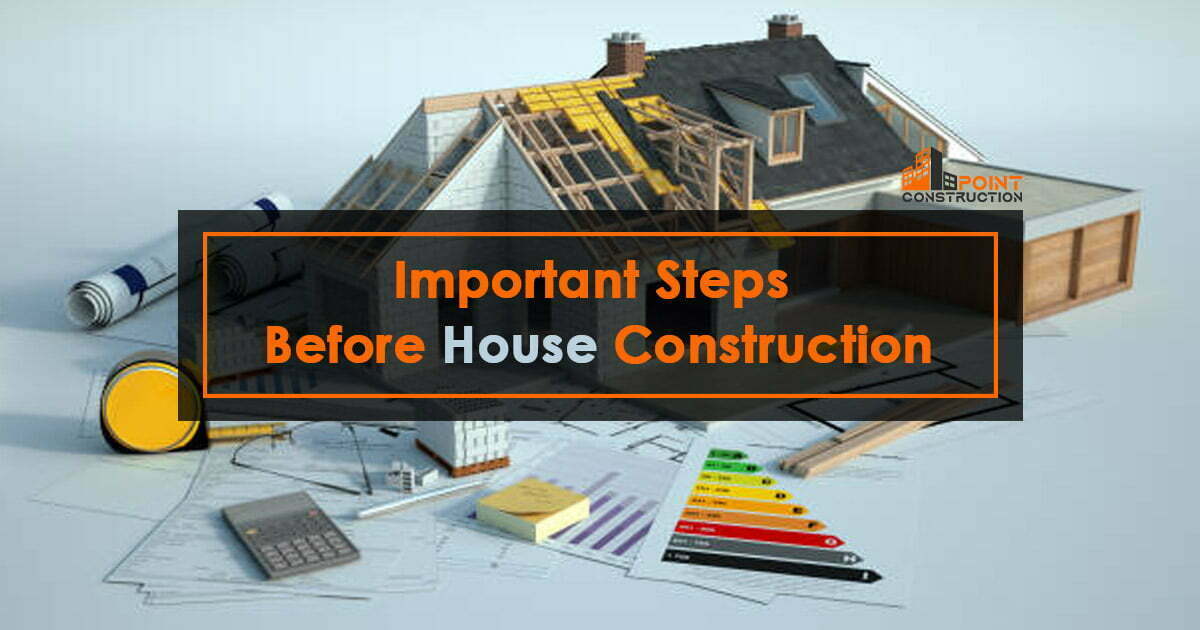 Important Steps Before House Construction. The first priority after purchasing a plot in Islamabad/Rawalpindi or any other city in Pakistan is how to start with the construction process. Construction Point provides complete step-by-step information about the Construction of a house. Our purpose is to ensure that you have complete knowledge of what may be required and what going on around you as you go through the procedure of House Construction. In this Article, We cover every stage of home construction, from Pre Design Phase to the Execution phase.
Important Steps Before Construction of a House. Before we move forward, let's just quickly overview the stages of home construction that we'll be discussing below:
Important Steps Before House Construction
Soil Investigation
Prepare Architecture Design by Registered Architects
Approval of Drawings by CDA/RDA/TMA
Selection of Professional Contractor
Applying for Utilities (Electricity, Water, Etc.)
Let's continue with the step-by-step guide to the Construction of a house.
Step 1: Soil Investigation
Before beginning construction, soil tests must be completed according to the Suggestion of the Architects/Structure Engineer. First and initially, you must test the soil to determine its type and stability before starting with the construction phase. If the soil is extremely loose, a deeper excavation and filling of the plot area will be required. If the earth is too hard, you'll have to break it down using more powerful machinery before laying the foundation for your new home.
Step 2: Prepare Architecture Design By Registered Architects
You'll need to engage a Registered Architect in order to properly Design and follow all of the technical stages required in Construction. Before the house Construction, the Architecture Design must be Complete by Professional Architect Create a floor plan that meets your requirements.
Additionally, inform Your Architect of all your expectations and requirements ahead of time so that the Floor plan/Elevation can satisfy you. This includes the number of rooms you needed, Front Elevation, and so on. Before you start building, you can assure that your plan has been approved by CDA/RDA/Gulberg Green/DHA or other Approval Authority.
Step 3: Approval Of Drawings By CDA/RDA/TMA
After Design a Floor Layout and Front Elevation, Your Architect submit a set of Drawings and approval Documents to Approval Authority Like CDA, RDA, DHA Islamabad, MA Etc. When your Drawings are approved by Authority then You can Start a house Construction. You can assure that your plan has been approved by CDA/RDA/Gulberg Green/DHA or other Approval Authority.
Step 4: Selection Of Professional Contractor
Discuss with your architect they better guide about Construction and can provide better construction Team as per your Design. Although architects are such an important part of the housing profession, they have definitely formed a construction Professional network. They have a team of dedicated contractors and experts in Construction. Everything must be done according to the Design and Approval of the Design Architect.
Step 5: Application for Utilities
The next stage in our step-by-step approach to building a house is to apply for the major services you'll need, such as electricity, water, and gas. You may need a water tank, a backup generator, or a gas cylinder in some places to accommodate for a shortage of these services, and you will need to plan accordingly.
Construction Phase Step By Step Guideline
Foundation Work
Brick Masonry/Block Work
Electrical Conduit work/Plumbing Work
Plaster Work
Flooring (Marble/Tile Work)
Wood Work
Paint Work
Electrical Fixture
Ceiling Work
Sanitary work
Finalizing the Home